Two people are lucky to be alive after their boat caught fire 40 kilometres north of Vancouver Island.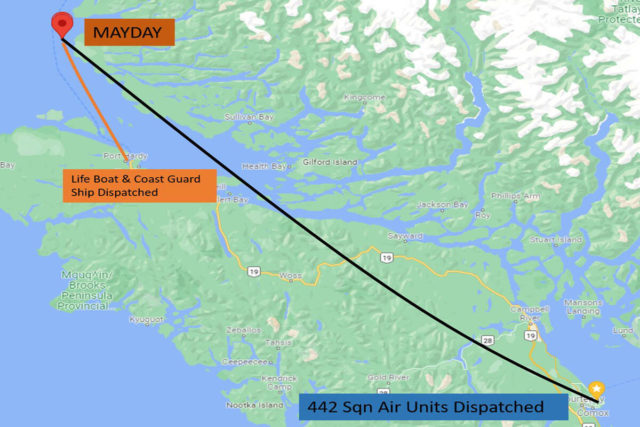 They put out a mayday at about 1:30 p.m. on Monday, September 27th. A floatplane happened to spot them floating (and burning) off the shore of Egg Island. The pilot called in the boat's coordinates.
Around this point, the two people managed to get off the blazing vessel and into a little rowboat.
The coast guard sent out two boats from Port Hardy.
And CFB Comox dispatched a CC-115 Buffalo airplane and a Cormorant helicopter from 442 Transport and Rescue Squadron. They dropped a radio and sea rescue kit and circled for an hour until the rescue boats arrived.
Thankfully a fishing boat was passing by at the time. The fishers picked the two people up from their rowboat and transferred them safely to one of the Port Hardy coast guard ships.
The coast guard brought the two survivors to Port Hardy for a medical checkup. They were fine.
The boat, though, was not okay. It definitely sank.