Residents and tourists are on edge as a forest fire rages and threaten homes on Sonora Island, located roughly 30 km north of Campbell River near the head of Bute Inlet.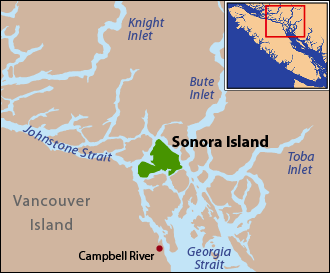 Just before midnight on Thursday, Strathcona Regional District issued an evacuation alert for residents of Owen Bay on the southwest corner of this remote island.
The alert impacts 30 homes. Residents were told to be prepared to leave "on short notice."
"Get your grab-and-go bags ready (which should include several days of clothing, toiletries and medications), your emergency plan, copies of important documents and important mementos," the alert said.
As of Friday morning, four helicopters, a fire response boat, and 17 provincial firefighters were battling the blaze alongside local volunteers.
The regional district praised locals for responding quickly and in an organized fashion after discovering the fire early Thursday evening. One structure had already burned down. By Friday morning, the fire had grown quickly to three hectares.
Authorities are asking tourists to stay away from Sonora until the evacuation alert is lifted.
"We are pleading that citizens avoid coming to the area to allow resources to operate safely," the district said.
The island is also home to Sonora Resort, a high-end sport fishing and ecotourism lodge on the island's easternmost point. So far, the lodge is not threatened by the evacuation alert.
The Sonora Island blaze is the latest hint that the 2021 forest fire season will be the worst in BC's recorded history. It also illustrates that coastal communities are increasingly vulnerable as summer droughts and heat waves create dangerously dry conditions in West Coast forests.
As of Friday morning, 269 fires were burning in the province, thirteen reported in the last three days alone. The Coastal Fire Centre, which covers Vancouver Island and the Sunshine Coast, accounted for 25 fires.