Last week, one artist and more than a hundred volunteers turned Chesterman Beach into one big art project. Then the tide washed the art away. And that was the point.
Jim Denevan, his son Brighton, and some volunteers who helped create the art watched as the tide took the circles. They were completely at peace watching the waves wash away their work.
While the art was beautiful to look at, Denevan told CBC it would have been "tacky" if it wasn't temporary. The sand art was almost a kilometre across. Leaving it there would have ruined the beach and the work's message, Denevan said.
"This is a natural area, a beautiful, beautiful place," he said. "It would be tacky, bombastic, to put something very large here that lasted more than a few days."
Denevan created the circles using simple tools like a hoe, a stick, and a rake.
Usually, the renowned artist works alone. But this time, he brought 18 extra shovels to see what would happen, and Tofino showed up. Folks from the community came by, but so did tourists. People who stumbled on the art project were happy to pick up a shovel and help.
Despite the group efforts, the final product had a perfect quality that looked engineered by a single person.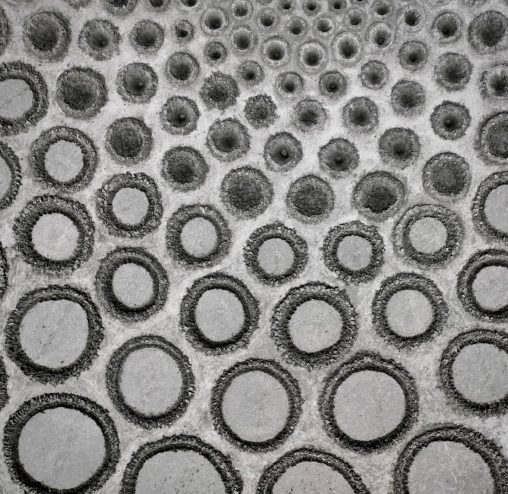 Or maybe it was built by an alien because it was also giving off crop circle vibes.
The inspiration for the artwork comes from complex mathematics. Denevan's mother was a mathematician.
"She seemed to be truly filled with this powerful personal and universal energy that came from working on math. Maybe I'm solving problems, walking among the sand, in a different way," he told the Black Press.
It took four months to plan the art piece and only a few hours for it to wash away. "It's a good life lesson," he told CBC. "Nothing is permanent."
Samantha Hackett is the Chair of Tourism Tofino. She told CHEK News that the art had an awe-inspiring effect on both viewers and those who helped create it.
"It's been amazing to see such an insane work of art. Size, and precise ability on the beach on such a temporary location…everybody is talking about it," said Hackett.
Now, with the art mostly swept away by the tide, Denevan will be taking a rest before moving on to his next big project.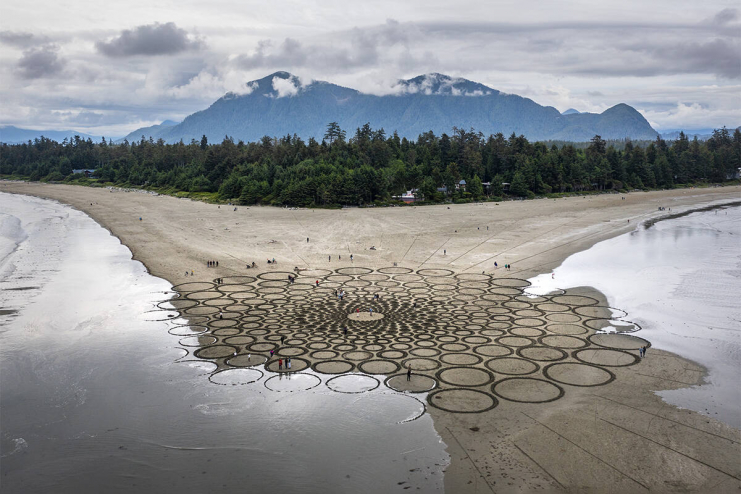 The renowned artist has created natural art projects around the world, including a Guinness Record-breaking piece in Nevada's Black Rock Desert. All his work has the same temporary nature as the Chesterman Beach piece.
His life and art are the subjects of the recently released film Man in the Field (2021). Director Patrick Trefz charts Denevan's experiences over a period of eight years and explores themes of process, grief, and discovery.
When he is not creating land art, Denevan hosts massive dinners where people eat where their food is produced. The dinner series is called Outstanding in the Field.