It was quite the sight. Wind whipped up white caps in Tofino Harbour. Even so, dozens of boats floated on the water off Tofino. Folks on paddleboards and kayaks circled a giant floating sign that read "FISH FARMS OUT!"
Everyone gathered on that Saturday afternoon to say "NO" to fish farms in Clayoquot Sound.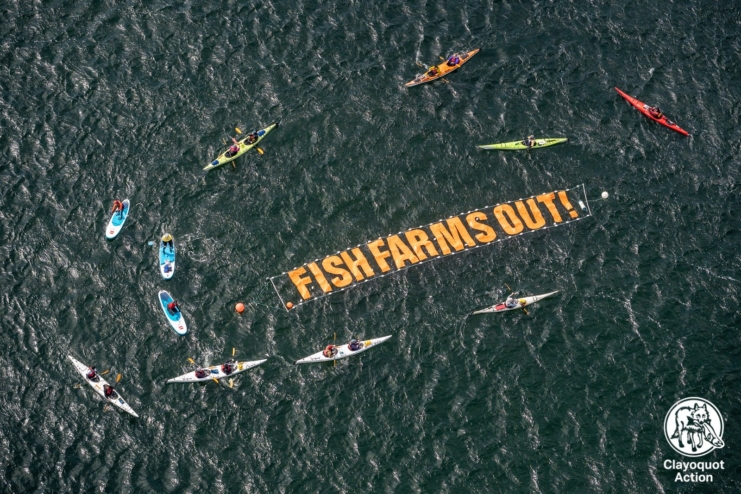 The message was aimed at Minister of Fisheries Joyce Murray. Seventy-nine fish farm licences are due to expire on June 30th. It's up to her to decide whether they get renewed.
The folks behind the flotilla think those licences should just stay expired.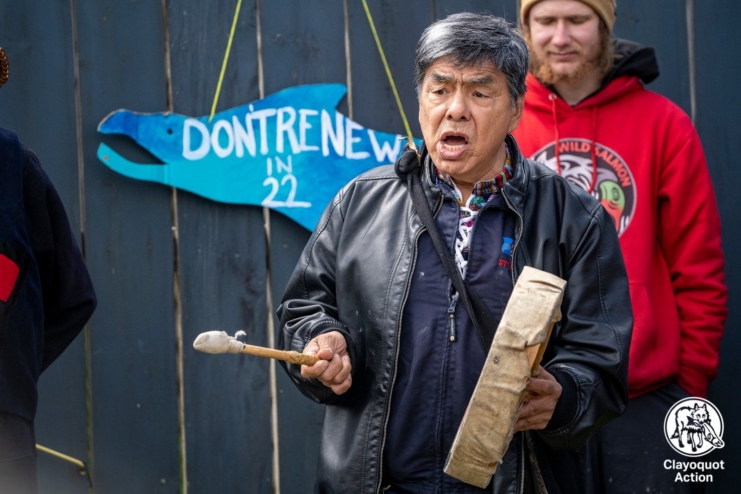 Tsahaukuse, or George Quocksister Jr., is hereditary chief of the Laich-Kwil-Tach Nation. "We want all salmon farms gone out of BC coastal waters," he said at the rally.
"Those 79 federal salmon licences that expire at the end of June, we don't want any of them renewed, period. There's 100-plus nations that say, 'We do not want this anymore.'"
And those 100 First Nations have a lot of non-Indigenous allies.
Folks in BC are generally concerned about open-net fish farms in coastal BC waters. Tour operators in Clayoquot Sound think factory fish farms hurt their multi-million dollar business.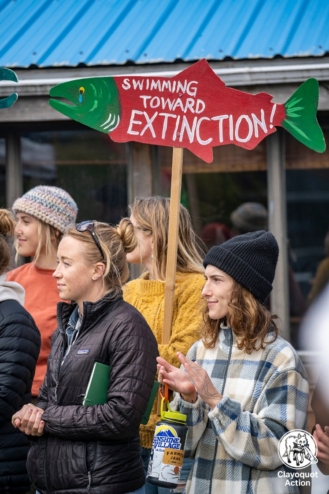 Local scientists worry about the pollution from all the treatments required to keep sea lice off farmed salmon. And the treatments don't even work all that well.
Chris Seitcher is a member of the Tla-o-qui-aht First Nation. He helped organize the event in his Nation's territory.
"We are very spiritual people. We are ceremonial people," he said at the rally. "We respect everything that walks on land and everything in the ocean through our songs and dances."
"There is nothing natural about the fish farms that we have in our territory. It just doesn't really make sense to have them in the water because we are not making songs about them. There are no ceremonies about them, so why do we have them?"