Five groups have launched a lawsuit against Albert Premier Jason Kenney and the Alberta government. They allege that he and his government lied about the findings of his ill-fated Public Inquiry into Anti-Alberta Energy Campaigns.
Environmental Defense, Wilderness Committee, Stand.earth, DogwoodBC, and West Coast Environmental Law are fighting back after Kenney spent two years using his position and the power of the Alberta government to try to discredit the organizations and their work.
Four of the five groups are based in BC and work to protect the lives and livelihoods of people and critters on VanIse and surrounding waters.
The groups allege Kenney and his government crossed a line when they lied about the Inquiry's findings, then added fuel to the fire by using social media to make claims that directly contradicted the Inquiry's final report.
"I'm used to the cut and thrust of policy debate, and that's fine," Tim Gray, Executive Director of Environmental Defence, told Canadian Press. "But to say a public inquiry that was paid for with public money concluded something that is exactly opposite to what it did is just pushing it a bit too far."
After Premier Kenney and the Alberta government refused to retract statements and issue an apology, the groups filed the lawsuit.
They are each seeking $15,000 in damage and another $500,000 in total punitive damages to keep Kenney and other political leaders from using the power of their office to punish their critics.
"All we asked for was a correction and an apology, but Premier Kenney refuses to retract the false statements he made and apologize for lying about the results of the Alberta Inquiry," said Gray. "In a democracy like Canada, a high-ranking government official should be held accountable for attempting to publicly alter the results of a Public Inquiry and for using his office to condemn and defame those he doesn't agree with."
"The only way to deal with bullies is to stand up to them. Kenney has crossed a line," said Tzeporah Berman, International Program Director at Stand.earth.
"Premier Kenney's lies and rhetoric are dangerous and damaging, and he needs to be stopped. This is an abuse of power. To use his position in government to attack those he disagrees with actually creates a disincentive for citizens to engage in our democracy."
In 2019 the focus of Premier Kenney's "Fight Back" election campaign was a promise to launch a public inquiry into what he called the "lies and myths" of foreign-funded environmental groups. A Public Inquiry is the highest kind of public investigation and can have real consequences. So it's a big deal.
Post-election, he launched that Public Inquiry. He hired Steve Allan, a forensic accountant with deep ties to Kenney's United Conservative Party—to lead it.
After 28 months and spending $3.5 million in Alberta's money, Commissioner Allan released his report. The nearly 200-page document was full of bizarre claims. Allan declares that any funds used to protect the web of life along the BC coast was actually "opposition to development of Alberta's oil and gas resources 'in a broad and general sense.'"
Allan decided that all the conservation efforts to protect wild salmon, create the Great Bear Rainforest, protect the BC coast from oil spills, safeguard endangered orcas, set up marine protected areas, and create a sustainable economy for the First Nations living on the coast were all really intended to mess up Alberta oil. So, they are all — according to Allan — anti-Albertan.
Let's be clear, there were a lot of severe problems with the Public Inquiry, which we've detailed here and here. A Globe and Mail editorial called it "a McCarthy-esque misuse of power."
But although he violated virtually every legal norm of fair process, Commissioner Allan still concluded that he found nothing "in any way improper or constitutes conduct that should be in any way impugned."
This is what's important, and it's what should matter to people everywhere.
But it didn't stop Premier Kenney from trying to spin the report to his oil industry-worshipping advantage. Last October 21, he took to his personal Twitter feed and Facebook to assert that the Inquiry found that environmental groups were spreading misinformation about Alberta's oil and gas industry.
­­But here is the crux of Kenney's lie and the lawsuit: Commissioner Allan was clear—he made no such findings in his report.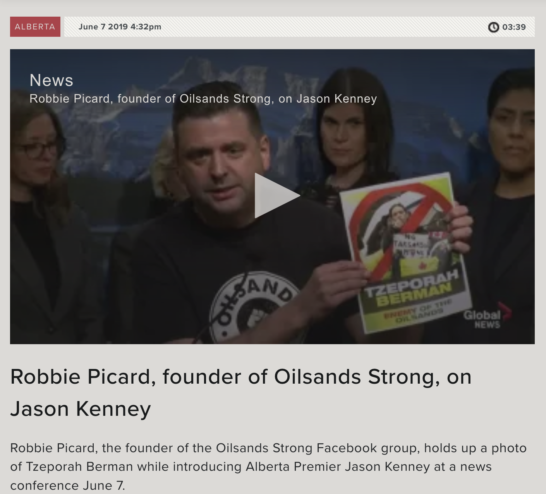 It's important to note that while the Public Inquiry was underway, Kenney and the Alberta government publicly-named groups and individuals, making them the target of threats and intimidation. For example, a poster picturing Tzeporah Berman of Stand.earth in a red circle with a slash through it was displayed at a 2019 government press conference launching the Inquiry.
"There is no place for lies and attacks that threaten concerned Canadians," Berman said. "Premier Kenney's actions have increased polarization and delayed planning that would support Alberta workers and their families during the energy transition and keep us all safe from more extreme weather, fires and flooding."
Jason Kenney's bullying fits a pattern. He wanted to prop up Alberta's oil and gas industry, so he lashes out at those who disagree with his policies. He then used his office to twist the Inquiry's findings, spread lies, and target individuals just because he disagrees with them. And the Alberta government followed his lead.
That's dangerous for democracy.
British Columbia and Canada are facing lots of tough challenges. We need to protect the ability of concerned citizens to speak up about important issues. We can't let governments shut people down because they don't like what they hear.
Kenney and his government dipped into the public purse to pay for this witch hunt. It backfired, so they lied to create the story they wanted.
But thanks to the lawsuit, they'll have to answer for this abuse of power in court.