Dessert lovers who want to take the sting out of a guilty pleasure need to quickly get down to the Comox Valley Farmers Market and pay a visit to Flourchild Vegan Baking.
Baker Lily Harned launched her Comox home-based business just as the pandemic hit full force in early 2020. She was opening just when most restaurants and cafes were shutting down.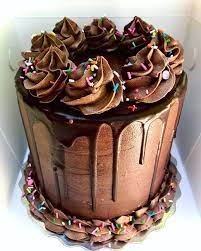 Flourchild was an immediate hit with people confined to their homes yet wanting a little comfort for the soul. Harned's bakery has been slammed with demand ever since.
From cinnamon buns and cupcakes to a recent custom Black Forest birthday puppy cake, it's all vegan and it's all culinary artistry. That means no animal products whatsoever in the ingredients – no eggs, cheese, gelatin, honey, or milk from animals.
Harned's creations are often as enjoyable to look at as it is to eat. And those who fear treading into the world of vegan eating, you'd never know the difference taste-wise. Rest assured there is still sugar.
As an additional bonus, Flourchild desserts have a noticeable lightness compared to regular baking, to the point that you'll convince yourself that you're making a healthy food choice.
Customers can buy in-person at the Comox Valley Farmers Market or place an order at www.facebook.com/FlourchildVegan/