Some people stand out in life – and long past it.
George Clutesi is one of those people. Known affectionately to many as "Uncle George," he made a huge impression during his life and has remained one of the Island's most impactful leaders.
"He's given so much to so many; recognition of him is long overdue," Shelley Harding, the Alberni Valley Museum's coordinator, told Ha-Shilth-Sa.
Part of that recognition comes from a new exhibit celebrating Clutesi's life and good works.
Uncle George was a renowned artist and educator. He created an unforgettable legacy by using everything from acting to writing to share his perspective and culture.
"He was a firm believer in his traditional ways and lived his life with a core belief of passing on his knowledge to the next generation," reads a statement from the AV Museum.
Clutesi authored the children's book Son of Raven, and Son of Deer, among other works like Potlatch and Sepass Tales.
"It's been translated into several different languages and is read around the world," said Harding.
He appeared in several films. And is remembered especially fondly for his role as elder George P. Hudson in the 1973 movie "I Heard the Owl Call my Name," which was filmed in Ahousaht.
And, of course, he's remembered for his paintings, which are a central feature of the exhibit.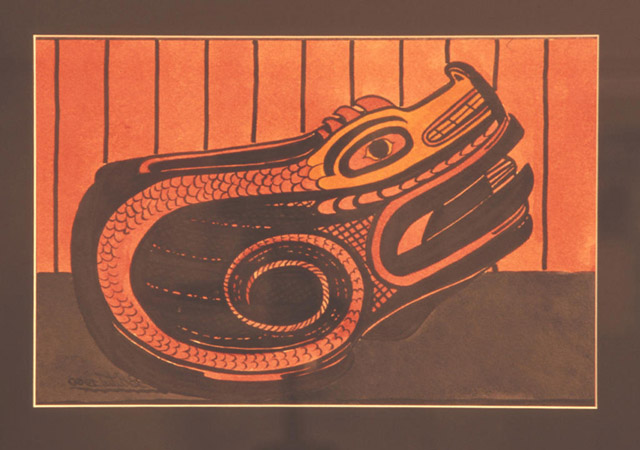 The exhibit features some original and replicated art Clutesi made between the 1940s and the 1970s.
Along with Clutesi's work, the exhibit has modern pieces made by Nuu-chah-nulth artists that wanted to pay tribute to Clutesi as a "thank-you" for his contributions to preserving Tsehsaht culture.
Contributing artists include Tla-o-qui-aht brothers Hjalmer Wenstob and Timmy Masso, Marika Echachis Swan of Tla-o-qui-aht, Dr. Dawn Smith, Ehattesaht, and Dr. Tommy Happynook of Huu-ay-aht.
Plus, you can hear recounted memories from those who knew him.
A documentary film by Alberni Indian Residential School survivors plays in a loop in the exhibit. It shares the memories of seven former students who knew Clutesi during their childhood and remembers the impact he made on their lives.
Overall, the museum does a great job of showcasing Clutesi's life.
The exhibit's title summarizes the kind of man Clutesi was.
ḥašaḥʔap means to keep, to be protective. ʔaapḥii means generous. ʕac̓ik means talented. ḥaaʔaksuqƛ means strong-willed, and ʔiiḥmisʔap means treasure.
The exhibit is open to the public now and will continue at the AV Museum until September 2.
After that, it will be moved to other venues like the Bill Reid Gallery in Vancouver.