Black History Month wrapped up a few months ago, but 28 days are not near long enough.
There are still many more stories to tell, and this is a good one.
When we talk about black history, the discussion often centers around events and people that occurred what feels like a long time ago.
We forget that history is ongoing, and in many smaller towns, black history began not very long ago at all.
In Port Alberni's case, the first black family arrived very recently and made a notable mark on the town's story.
VanIsle was colonized by primarily white individuals, so much so that cities like Port Alberni didn't have a single black resident until the 1960s.
That's when Winston Joseph, and his wife Sheila, moved to town with their children Jay and Judy. Two more children, Janis and Peter, were added to the family.
The Josephs were the first Black family in Port Alberni, and Winston became the first-ever black teacher.
"It was very conscious, you know," said daughter Janis Joseph to CBC News. "My parents had four of us. Three girls and a boy… We knew the responsibility that we had as children of colour in a predominantly white community."
Upon their arrival, the Josephs were met with many preconceived notions about black people.
Winston chose to meet every person and opinion with humour and love.
When Winston was hired to teach at A.W. Neill, staff assumed he'd be the new basketball coach. But basketball wasn't a big sport in Winston's birthplace of Trinidad when he immigrated to Canada in the 1950s.
Winston just laughingly corrected them, saying, 'I don't know much about basketball, but I can teach your kids to read,'" Janis told Alberni Valley News.
This was the kind of attitude the Joseph family were (and are) known for.
In a primarily white society, paving a path through deeply ingrained prejudices and systemic racism isn't easy.
But from the outside, Winston certainly made it look like it was. He became known across town as Mr. Positive Port Alberni.
Winston embodied a "love one another" philosophy throughout his life.
He once quoted in one of his articles, which he'd have published often by local news outlets,
"Are my destiny, cause and calling aligned? Yes, my destiny is love, my cause is being a lover, and my calling is doing loving things."
He fulfilled his calling to the utmost.
A Christian, Winston served on the Friendship Centre and Family Guidance Association boards, was a proud BC Lion, ran a radio show, and gave back to his community in every way he could.
But it was his work as a teacher that had the biggest impact on Port Alberni's history and the present.
While he may have made changing attitudes look natural – the work, patience and understanding behind it were truly learned and taught.
CBC reporter and Urban Nations columnist Wawmeesh Hamilton was one of Winston Joseph's students.
He recalled how the most important lesson he learned from Winston was outside class.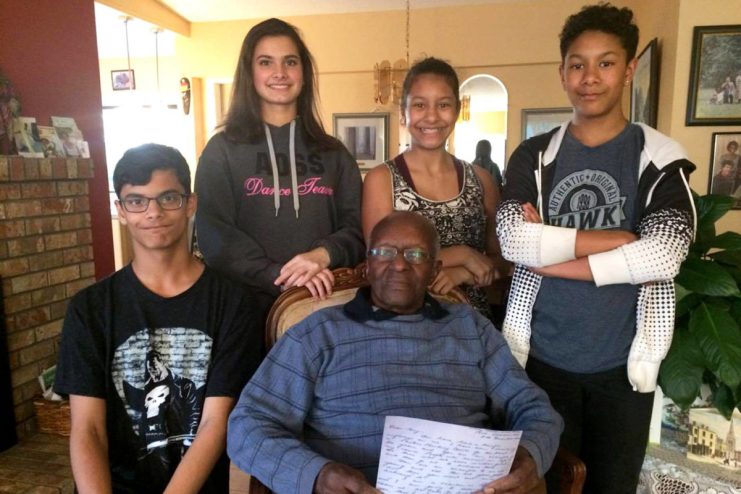 "I had gotten into a debate — a terse, sharp debate — with a kid about Indigenous people and about the Indigenous communities in the Alberni Valley. And the kid began to bait me with racial slurs," said Hamilton.
"The debate turned to yelling, and yelling turned to swearing and very quickly … we were both tossed from class."
On the way to the principal's office, Winston stopped Hamilton in the hallway.
"He said, 'I'm a minority. I know what it's like … you need to find that better way because you're going to have to deal with these people all your life,'" Hamilton said. "'You needed to be [in class], but because of this, you're not. It stopped you from getting what you needed.'"
A harsh lesson to learn, and it's hopefully one that not many more generations will have to learn.
But Winston taught it as necessary.
"I value that lesson more than any other lesson I was taught at school. I not only value it, but I pass it down to my children," Wahmeesh told CBC.
This kind of quiet wisdom and perseverance stood out to countless of his students, and he helped endow them with the same knowledge.
"Your dad was an inspiration for all of us growing up and through our lives," former student Alan McCulloch wrote after his passing. "He is a great man. Thank you for sharing him with all of us; we were blessed."
Most importantly, Winston showed everyone that having unshakable love for yourself and spreading that to others is the best way to walk through the world.
"That's who he was and what he stood for. This was a man who was never a hypocrite in his beliefs. He was just good to the core. He was just good and kind," said Janis.
Winston and his family single-handedly kickstarted the "black history" timeline in the valley.
Winston Joseph passed two years ago this month in April of 2021, but the legacy he created in the valley is far from forgotten.