Every year, tourists spend millions of dollars visiting Tofino. Now, some of that money is being collected and sent to the Maaqutusiis Hahoulthee Stewardship Society (MHSS).
MHSS created a stewardship fee, where local businesses and organizations charge a small fee to tourists who use their services. The money goes straight to MHSS, who are using the funds to restore and protect Anderson Creek.
Byron Charlie told Ha-Shilth-Sa that the Ahousaht First Nation has taken care of the salmon rivers in their hahoulthee, or traditional territory, for ages. "This has been our job since the beginning of time."
Charlie works as a full-time guardian for the MHSS. He has helped on multiple river restoration projects, including Anderson Creek and Bedwell Creek. "Our goal is to preserve what we have left and do our best to bring back the plentiful, pristine beauty that our lands once held."
It looks like their efforts are working.
It's been about 30 years since there were salmon in Anderson Creek. But last year, two chums came back.
"That was a big win," Charlie said.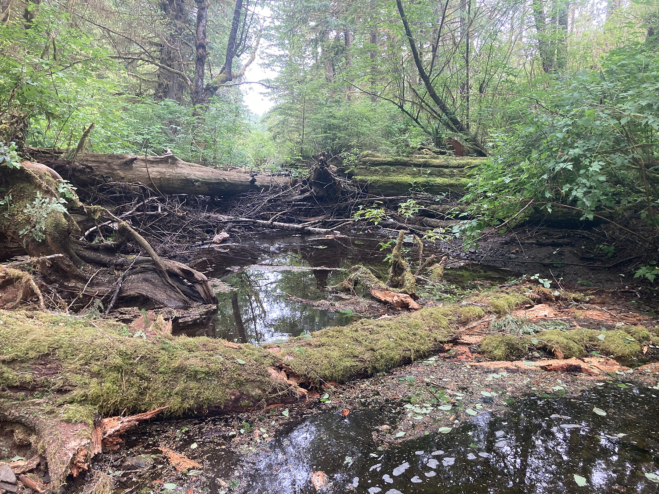 Folks with the MHSS wanted to honour the businesses that are helping to make their work possible. So they hosted an event with supporters like Ryan Rogers, who runs Paddle West. He says that visitors pay the fee when they take Paddle West's kayaking tours, and that they're really positive when they find out the money is going to salmon restoration.
"It just feels good to give back," Rogers said at the event.
The MHSS also gave $10,000 to the Tofino Salmon Enhancement Society, which will use the funds for restoration efforts in Ahousaht territory.
The goal is to blend Indigenous ways of life with western values to preserve the natural health and beauty of the region.
Byron Charlie wasn't always convinced that river restoration would work. "I had no faith [at first] when we fixed that thing up," he said on Indigenous Guardians.
But last year, he told the Narwhal that restoring the Anderson Creek was "like night and day." The MHSS Guardians and their team built pools, spawning beds, and places for juvenile salmon to hide from predators.
"I think it's the perfect place for salmon to go now," he said.
"It's just a matter of waiting."