Sometimes it feels like the gods are looking out for you. They were certainly looking out for NorthIsle Wildlife photgrapher Anthony Bucci when he headed out for a shoot recently.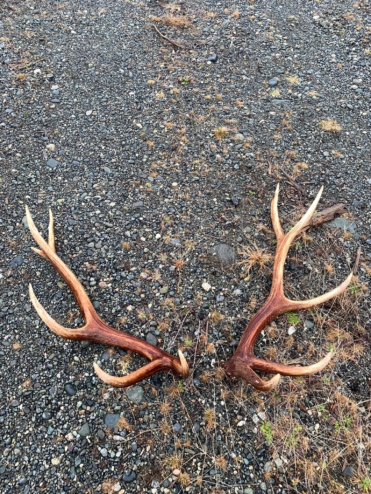 Bucci posted a fantastic story on the Field Naturalists of Vancouver Island Facebook page about the bull elk photo posted above.
Apparently, Bucci took the above photograph of the bull elk last month. Then, last week he headed off to the same area to see if he could track down the bull elk again.
He couldn't find the bull elk, but he did find the same elk's shed (antlers). Bucci spotted them lying on the logging road where he had taken the photo a month ago.
Elk shed their antlers once a year during the spring months. The antlers immediately begin to grow back—fun fact: they grow at the mind-blowing rate of one inch per day.
But it's very rare to find a whole rack together.
And when Bucci compared the marking on the shed with the bull elk's rack in his photo, he was surprised to see they matched.
So Anthony was a lucky guy.
And we are, too, because he shared his amazing photo and story.