Susan Musgrave has lived a life full of insane highs and lows that few can match.
Known to many as the "sea witch," she's spent her lifetime spinning poetic stories and literary spells that embrace the free spirit of the west coast.
Her award-winning poems and books have documented much of her wild lifestyle.
From her serendipitous meetings with most of UVIC's English department in the local psychiatric ward to her wild escape and travels down through the States and Central America, the audacious meeting of her drug-smuggling second husband (In court, as her first husband, a criminal lawyer was prosecuting him), adventures in wild horticulture and foraging back on the northwest coast, through exploits with her even more notorious bank robbing third husband – the list goes on.
The well-loved Canadian poet has many riveting stories, but none meant more to her than those involving her daughters.
In a tragic twist of fate, her ability to create any more stories with her daughter, Sophie, was taken away.
When Sophie died of a drug overdose in the fall of 2021, Musgrave felt she might be done writing for good.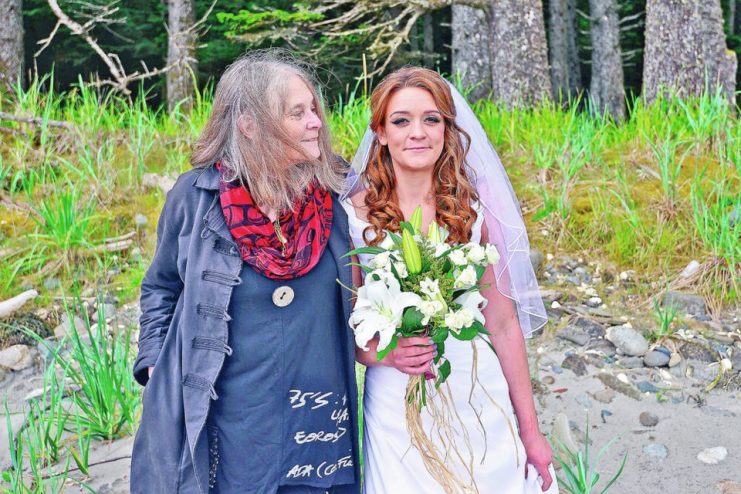 Musgrave went into a dark night of the moon for over a year afterwards.
"I learned that with Stephen [Musgraves third husband], addiction is stronger than any love…Right now, I'm still feeling 100 percent helpless that nothing I could do could bring my child back or all the ones who have died, and I don't know how to prevent it. It's a huge problem," she told Times Colonist.
The road that led Sophie to her overdose was long and winding. Like most people suffering from addictions, she fought many times for sobriety and, at times, was thriving.
"I read these descriptions of kids who die,d and they're always amazing, the life of the party. They love animals. They're kind. They're generous. They have a huge sense of humour. I don't know if that's just what you remember when your child dies, but I don't think so because [Sophie] was," said Musgrave.
Sophie was obsessive about AA and spent days doing the work.
In the summer of 2021, Sophie went off suboxone, prescribed to reduce the severity of withdrawal symptoms, because she didn't want to be on it anymore.
"I'd been paying for it because I wanted her to stay on it so she wouldn't start using opiates again. She went cold turkey, so of course, she got really sick. It's like coming off heroin. You can't do that. And she picked up the first thing she could, which was fentanyl."
Fentanyl is involved in nearly 9 out of 10 overdose deaths in BC – including Sophie's.
Following Sophie's death, Musgrave lost her ability to write.
But she picked up a pen again for the first time last month.
"I started a poem the other night…I was really happy. Even though I didn't finish it, it doesn't matter."
It's good news for her readers, who have been hoping this wouldn't be the last we'd hear of Musgrave.
She was thrust back into the spotlight after winning the prestigious George Woodcock Award for Outstanding Literary Achievement this spring.
Musgrave was also shortlisted for the prestigious Griffin Poetry Prize for her most recent book of poetry, Exculpatory Lilies, written in 2018. A section of the book — The Goodness of the World — is about when Sophie lived on the street in 2014.
"Being shortlisted really helps, because those poems, people are getting to know Sophie through them. A lot of people have written to me saying: 'I feel like I know your daughter now that I've read these poems.' "
Musgrave has always embraced the west coast lifestyle. However, her daughter's death is a sad reality that many people on the island and in British Columbia have also experienced.
Since Sophie's death, Musgrave has spent time with many other women whose children have died of a drug overdose.
She'll continue to connect with others through this experience, whether in person or a through a pen.