Nurses be warned; if you use your professional title to oppose COVID-19 public health orders, you could lose your license.
In a CBC News story reported on November 2, the BC College of Nurses and Midwives (BCCNM) said it issued the warning following reports of unvaccinated nurses opening new clinics.
"There have been numerous media reports over the past days and weeks regarding activities of BCCNM registrants who participate, organize, or agitate against public health orders in place to deal with COVID-19," the college said in a statement.
BCCNM is a health regulator. That means the government has given the BCCNM the power to set and enforce the rules for five professions — licensed practical nurses, midwives, nurse practitioners, registered nurses, and registered psychiatric nurses. The BCCNM is legally obliged to protect the public by establishing eligibility rules for these professions. To practice legally, all of these health care workers must be licensed and registered by the BCCNM.
According to the organization's website, "regulation helps protect the public by ensuring registrants provide care that is safe, competent, ethical, and meets the standards the college sets."
Under the Health Professions Act in BC, the BCCNM can investigate registrants who may be in breach of the college's Professional and Practice Standards.
For example, any registrant spreading COVID-19 misinformation and using their professions to go against public health orders could have their license suspended or be ordered to take remedial education. They could also be fined up to $2,000 or jailed for not more than 6 months.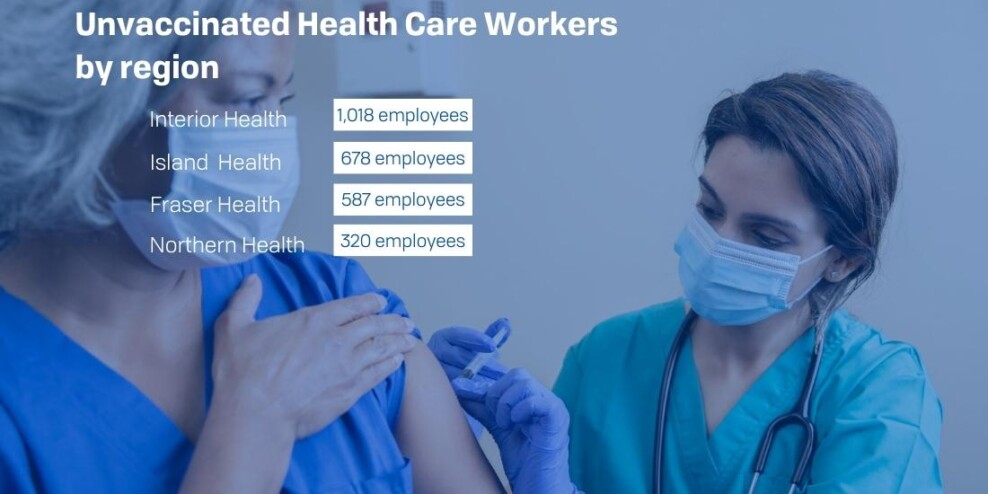 As of last week, 3,300 health care workers, or 2.6% of the entire provincial health care workforce, were on unpaid leave after not meeting the Oct. 26 deadline for mandatory vaccination. Only 678 of these unvaccinated workers are on VanIsle.
As reported by the CBC, some unvaccinated nurses are going rogue.
A woman named Svetlana Dalla Lana claims on Facebook to be working with an informal group of unvaccinated nurses trying to open clinics around BC under the name EZRA Wellness.
Charlie Smith of the Georgia Straight reported that "Dalla Lana insisted that Ezra "does NOT represent, support or associate with ANY criminal organizations such as the BC Colleges of Nurses and Midwives".
Unvaccinated nurses are reportedly also trying to open clinics under the EZRA Wellness banner in Kamloops, Vernon and Castlegar. None yet on the Island.
The Ezra startup clinic in Kamloops was reportedly shut down by the building's owner soon after opening because it was sub-leased by another tenant without permission.
BC's Minister of Health Adrain Dix has warned unvaccinated health care workers that private clinics are not an alternative to continue practicing as normal.
Kamloop's CFJC reported Dix saying "We made it clear when we made the mandatory vaccination announcement for health care that we would also be engaging and, indeed, instructing the colleges — for example, the College of Physicians and Surgeons, the nursing college, the pharmacists' college, the dental college, and so on — that, as a condition of license, people would have to be vaccinated."
"There isn't any loophole, there isn't any back door here," Dix said. "If you want to practice these professions in BC, you're going to have to be vaccinated."
Them sounds like fighting words. A confrontation seems inevitable.