If that new fridge you ordered months ago still hasn't arrived, you might find it at Raft Cove. Unfortunately, it will be full of seaweed, not beer.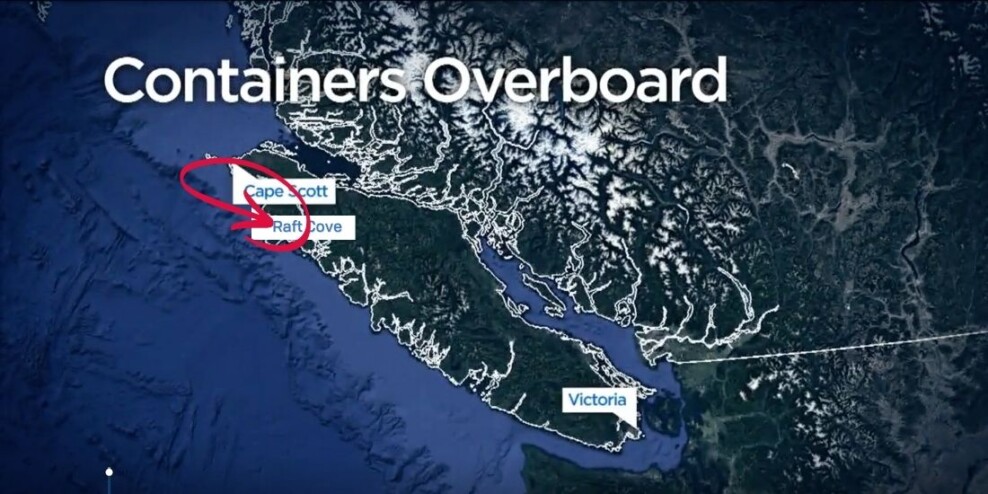 It's a sand-filled rummage sale on the north coast of Vancouver Island. Christmas presents, refrigerators, running shoes, toys and other consumer goods from lost shipping containers are now littering beaches from Raft Cove to Cape Scott.
On October 22, a wicked storm struck the MV Zim Kingston as it neared the entrance to Juan de Fuca Strait. Danaos Shipping Co., the Greece-based shipowner, first reported that 40 containers were lost overboard. But the captain got his math wrong. The number of lost containers quickly grew to 109.
Losing the giant containers wasn't the only problem the distressed ship had.
A fire also broke out on the ship. It burned for several days before being extinguished by crews of two ships with fire-fighting capabilities. Thankfully, none of the 16 crew were injured.
While the Canadian Coast Guard continues to coordinate beach clean-up with the shipowner, 105 containers filled with Christmas decorations, sofas, poker tables, metal car parts, clothing, toys, yoga mats, stand-up paddleboards, and industrial parts remain lost.
Two of the 105 missing containers are particularly troublesome. They contain the highly toxic and flammable chemical potassium amyl xanthate. It is widely used in the mining industry to separate minerals from dirt.
The pale, yellow harmful chemical powder has a pungent smell and dissolves in water. It could be lethal for any sea life that comes in contact with it. Yet, according to the Coast Guard, nobody knows where they are.
While these toxic chemical-filled containers float around somewhere off the West Coast, authorities cleared the embattled MV Zim Kingston late last week to berth in the Nanaimo Port Authority or Vancouver Port Authority docks.
"It is important to note that there has been no damage to the ship that would interfere with its safe navigation," said the Coast Guard in a news release. "However, out of an abundance of caution, a comprehensive plan, with support from multiple agencies, will be in place during the ship's transit."
The MV Zim Kington is 260 metres long and able to carry 2,000 shipping containers.
In Canada, ship owners are legally responsible for clean-up after an incident. However, marine oil spill prevention consultant Gerald Graham told CBC News that Canada needs to be better prepared, especially in the event of a major oil spill. "I think we're relying too much on the private sector, the polluter, to arrange the response when in fact it's the Coast Guard that has to have the on-the-water capability," he said in an Oct. 26 CBC News story.