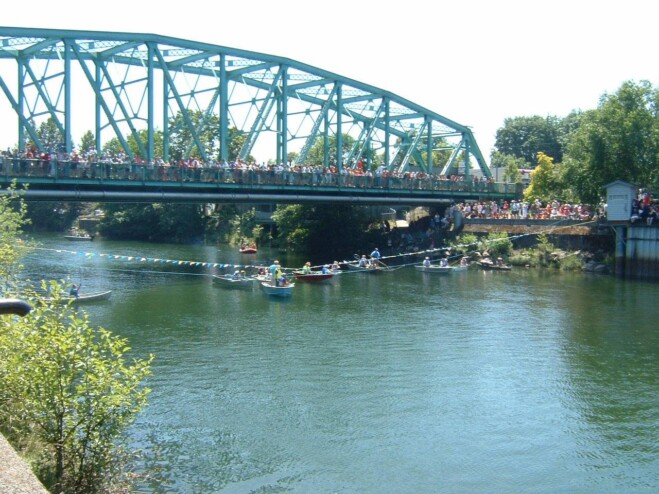 No duckies sailed down the Puntledge River this year. (Screw you, COVID. Again.)
But the people of Comox could still get into the spirit. They bought enough virtual duckies to raise more than $35,000 for the Rotary Club's community projects.
In a normal year, folks from the region sponsor a rubber duck for $10. Then on July 1st, as part of the Canada Day event at Lewis Park, onlookers watch as the ducks race to the finish line at Fifth Street Bridge.
This year's Ducky 500 was held in honour of John Marinus, the "Ducky Guy," who passed away in January of this year. Marinus was a town councillor for 20 years, was on the Comox fire department for 37 years, and was named Citizen of the Year in 2009. He also sold a lot of ducky tickets.
Second prize ticket #121002: Marg Bowbrick of Courtenay won a Comox Valley staycation, including a two-night stay at the Crown Isle Resort & Golf Community, golf and a cart for two; a $100 Resort Gift Card; a Pacific Mist Hydropath for two at the Kingfisher Spa and Resort; and a $100 Gift Card and a Mount Washington Alpine Resort Zipline tour for two.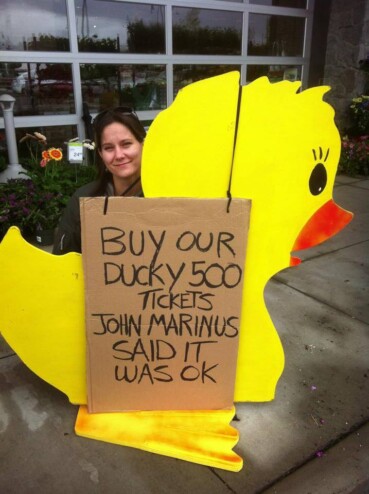 This year's winners were drawn from a raffle. Not as exciting as cheering on your plastic buddy from the riverbank, but the prizes were still great.
This year's winners are:
Grand prize ticket #120648: Ruth Bell of Courtenay won two Momentum Lafree EBikes by Giant; one Swagman Current bike rack; two Giro Fixture helmets; two Abus Tresor locks from Mountain City Cycle–or $5,000 cash if she doesn't like bikes.
Third prize ticket #131054: Kevin from Kepso Construction of Courtenay won a $1,000 gift card to Canadian Tire.
Fourth prize ticket #121566: Michelle Sandiford of Courtenay won a $500 gift card from Thrifty Foods.
The Rotary Club would also like to thank all of its sponsors. They helped make the event a huge success.
Diamond Level: Waypoint Insurance
Platinum Level: Brian McLean Chevrolet, Old House Notary, Dominion Lending Centres, Chan Nowosad Boates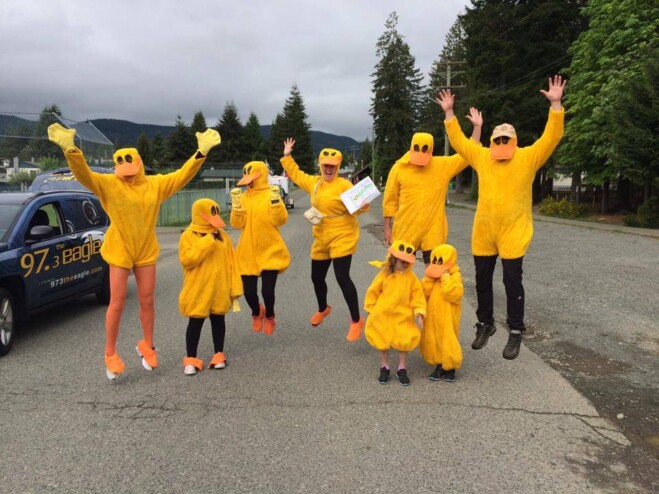 Gold Level: Searle's Shoes, Grant Thornton LLP, Swift Datoo LLP, The Grove Health & Wellness, WJL Enterprises, Signature West Floor & Window Fashions, The Co-operators, Mindset Wealth, Jiffy Lube, Low Cost Storage
Media: Comox Valley Record, 98.9 The Jet FM, 97.3 The Eagle FM