The Comox Valley Search and Rescue had a busy weekend. They braved harsh winds and a risk of avalanche to rescue folks who got lost in the snow.
It started with a call late Saturday night. Four buddies (three from Quebec and Ontario) had left Mount Washington Alpine Resort with their dogs the day before. They were supposed to go out into the backcountry on their split boards and come back later that night.
But things did not go as planned.
One of the four turned around and went back to the resort. But his buddies never showed up.
So he called Comox Valley SAR to report them missing.
The fourth skier figured his buddies (and the dogs) headed to the cabin at Divers Lake. Sure enough, that's where SAR found them around noon on Sunday. They had tried to make it back to the resort, but the snow was so bad it forced them back to the cabin.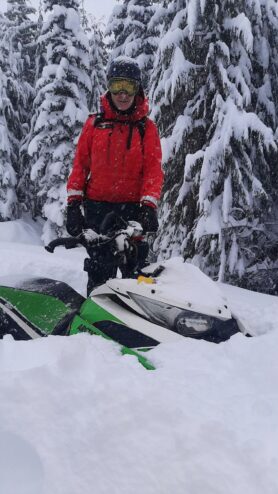 Paul Berry is the search manager for the SAR. "They had hunkered down because of the conditions and were basically riding out the storm," he told CBC News.
According to Berry, the trio only had enough water and food to last one night. Their cellphone batteries died from the cold, so they couldn't reach anyone. And they had no tent or sleeping bags.
"Had they not been able to get back to the cabin last night, they would have been in serious jeopardy," Berry said.
Mount Washington helped with the rescue. Berry told the Times Colonist that resort staff used a snowcat to break a trail to an area near the cabin. The SAR team's snowmobiles then towed out the men and their dogs.
But SAR still had to trudge all the way out there. Their Facebook page called them "some of the most difficult operational conditions the team has operated in in years."
And while they were rescuing the men from Divers Lake, another call came in.
Two snowshoers from Nanaimo were lost near Kwai Lake. They had planned to summit Mount Drabble, but the weather got bad, so they hunkered down in their tent.
"They were certainly prepared for winter camping," Berry told the Times Colonist. They were expecting 10 cm of snow. But when they woke up the following day, they'd gotten 100 cm.
They tried to make it home, but the snow made travel really hard, even with their snowshoes. And they were getting lost. So they activated their spot beacon.
In a moment of bullshit luck, the SAR was already nearby.
"Fortunately, one of our search teams looking for the other crew was in pretty close proximity when the spot beacon was activated," Berry said.
They found the snowshoers and helped them back to their resort.
These local heroes had a busy day in some of the wildest weather we've had in years. Thanks to them, five people (and two pooches) are alive to talk about their scary adventures.