The Alberni Valley Rescue Squad are truly some local heroes! Over the last few years, they've become a valued community resource across West Isle.
They put countless days into training to keep people safe in often dire circumstances, and it's been paying off big time.
Last month they were deployed to rescue two visiting French sisters from a high ledge deep in the Beaufort Range north of Port Alberni and to the west of Qualicum Beach.
The rescue allowed them to deploy the techniques the group had been practicing all winter!
Just a few days after the AVRS partnered with Arrowsmith Search and Rescue and got certified by Emergency Management and Climate Readiness for helicopter hoist rescue, they had to use it.
Rescuers were lowered from the helicopter into the area and rappelled 75 feet to reach the hikers stranded on the ledge. From there, the hikers were strapped into rescue harnesses, carried off the ridge, and hoisted into a waiting helicopter.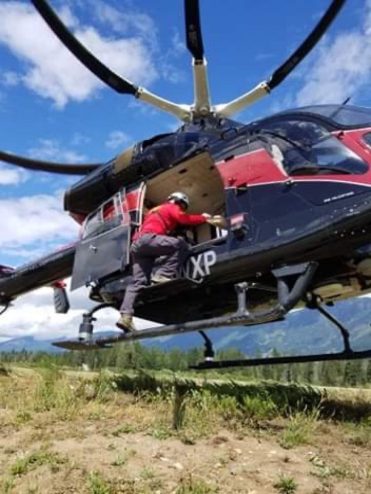 Needless to say, the sister duo was extremely grateful.
"The two French hiker sisters here…
thanks again for the rescue. Have you received our "liquid present" and enjoyed it ? Cheers, Clara and Hélène," they wrote on Facebook.
The rescue was a big success, and a "liquid present" isn't the only perk the group will receive following their recent missions.
The province is taking notice of their efforts and the benefits they bring to the area.
Last week, Josie Osborne, who represents Mid Island-Pacific Rim, shared some exciting news with AVRS and Westcoast Inland Search and Rescue. each get some off the $6 million in funding recently allocated to the BC Search and Rescue Association.
It will end up boosting the group's budget by about $63,000!
"The mid-Island region is world-renowned for its incredible backcountry, where locals and visitors alike can explore some of BC's most breathtaking mountain and alpine areas," said Osborne in a release.
"I'm grateful to know that if the need arises, the Alberni Valley Rescue Squad and the Westcoast Inland Search and Rescue are always there to assist people. I'm glad our government is providing funding to these two organizations so they can continue their dedicated work."
The extra dollars will support lifesaving rescue equipment, further training, protective equipment for volunteers and administration costs, like insurance.
Search and rescue services are free in BC. You can always get a team out to help by calling 911.
For more information about AVRS or if you're interested in joining the squad, visit www.avrs.ca.
You can also keep up with their mission-impossible adventures on Facebook or Instagram.