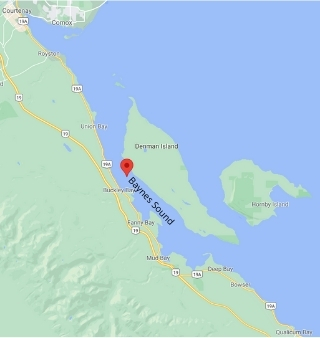 A rare bacteria normally found in tropical waters infected a Denman Island man after taking a dip in the ocean.
A Denman Island man is recovering from a serious infection that could cost him his leg after coming into contact with a rare water-borne bacteria.
Graeme Johnston accidentally gashed his leg with a sharp stick while walking his dog in the woods in mid-July.
He had the wound treated, was given antibiotics and told to stay out of the water for a few days. Later, when Johnston went for a dip in Baynes Sound, things quickly went sideways.
"His leg started getting sore, and it was getting red," his wife Edina told Black Press Media. "You could definitely tell he was going downhill really fast."
He started feeling ill and developing symptoms of septicemia or blood poisoning. When he went to the hospital for a second time, doctors told him he needed intravenous antibiotics. After three days, they reassessed him in the ER, and he was readmitted to the hospital.
Johnston is a fit 70-year-old volunteer firefighter, but he was suddenly in a fight for his life.
Soon after, the BC Centre for Disease Control identified the bacteria as Shewanella, often found in tropical seas but virtually unheard of in Canadian waters.
According to Island Health, it is so rare that the province does not even designate it as a "reportable disease" that health officials must report if they know or have reason to believe someone has it.
Other than that, there's very little information about this bacteria in Canada. One study indicates it can lead to disease or death. Another found it rarely causes infections though they are "increasingly being reported."
Climate change and warming oceans may be the reason for Shewanella's appearance in Baynes Sound. Shewanella can tolerate a range of temperatures and water salinity levels so it's possible it was transported north in some ship's bilge water and, because of the warming climate, found a welcoming place to reproduce in Baynes Sound.
In the meantime, Johnston is still battling the rare infection. He is back in the hospital again after the oral antibiotics didn't work, and doctors haven't ruled out the possibility of having to amputate his leg.
Let's hope for a good outcome.