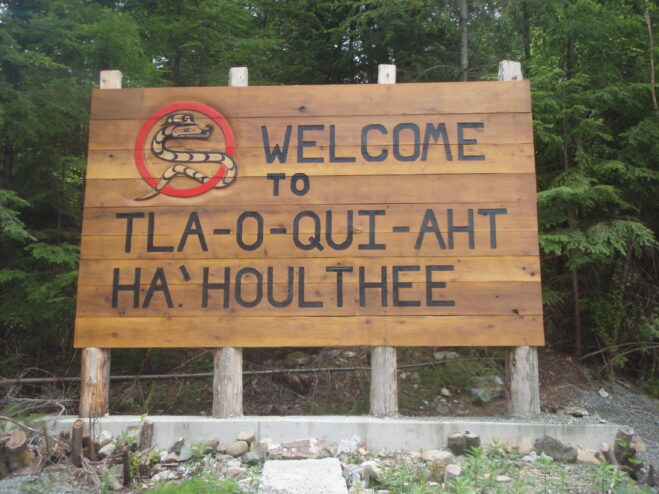 A surge in Illegal camping in and around Tofino and Ucluelet has prompted one Tla-o-qui-aht youth to take matters into his own hands. After witnessing an increase in disrespectful behaviour by campers along West Main logging road, Tim Masso set up a roadblock early this week to turn people away.
"It's the wild west out here and, with these illegal fires, it's a disaster waiting to happen," Masso told the Times Colonist in an interview.
For years now, the 18-year-old has watched the West Main logging road to Kennedy Lake being overrun with campers, who leave garbage and human waste, light fires and damage salmon streams and forest habitat.
Masso gave campers 24 hours to leave, and the RCMP was on hand to keep the peace.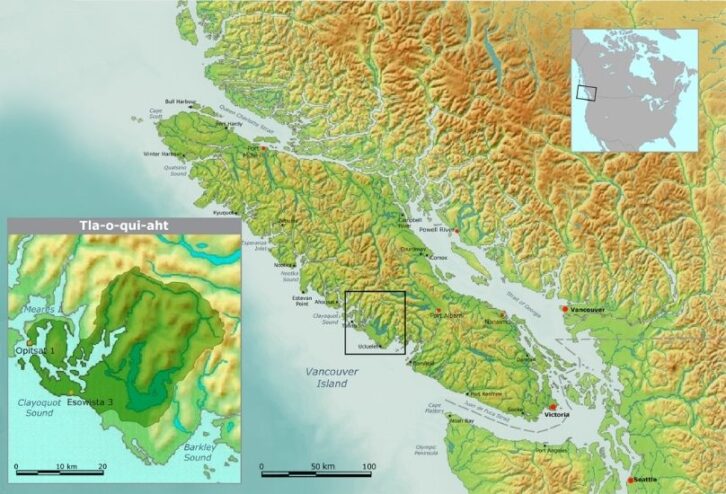 West Main is a designated backcountry camping area. Ucluelet Mayor Mayco Noell said the area has become an overflow for visitors and workers unable to find local accommodation. Noell told the Times Colonist that Masso had shone the spotlight on some of the growing negative impacts of tourism in the region. Hotels and campgrounds are booked solid well into the fall, but people keep arriving.
"What Timmy Masso has started here is a serious discussion on what we have to do to make things better," Noell said. "The messaging has to be zero tolerance for all of those concerns."
The crush of tourism has become a hot topic among Tofino and Ucluelet locals.
In the early 1990s, the War in the Woods brought global attention to old-growth logging in Clayoquot Sound. At the same time, there was a concerted effort to diversify. Tourism and travel were emphasized to replace the downturn in logging and fishing. Surf, beaches, dining and five-star accommodations in a wild west coast setting became the attraction.
It worked.
Wickaninnish Inn founder and managing director Charles McDiarmid told Douglas Magazine he never imagined what tourism would become when he opened in 1996.
Today, visitors spend $295 million every year in the local economy. In addition, the sector generates $57 million in municipal, provincial, and federal taxes, and $220 million in GDP.
But now tourism is starting to face serious scrutiny. Housing affordability has become a major issue, forcing some service workers to live in tents for the peak season.
So too has overcrowding and illegal camping. In 2020, bylaw officers were overwhelmed with visitors practically living in their cars and vans in day-use parking lots and leaving behind garbage and waste. In response, the District of Tofino hired more by-law officers and stepped enforcement.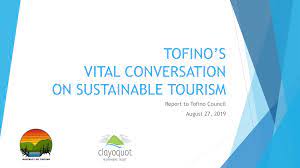 In 2019 the Clayoquot Biosphere Trust and District of Tofino convened the Vital Conversation on Sustainable Tourism. It brought stakeholders together from the business, First Nations, non-profit and government sectors to talk about tourism. It was a testy conversation.
People complained about the impacts of tourism. Residents were concerned about the high cost of infrastructure, such as water, waste management and roads. Residents were also worried about their quality-of-life, and about continued visitor growth negatively affecting environmental integrity. One of the participants summed up this sentiment: "Communicate the impacts to visitors, generate a sense of community, stop sugar-coating the reality for tourists."
Jim Chisholm, Tribal Administrator for the Tla-o-qui-aht First Nation, told the Times Colonist that it's only a matter of time before a wildfire is ignited on their traditional territories.
"The region is promoted for tourism, but [the capacity] to accommodate everyone isn't here," said Chisholm. "It's not a Tla-o-qui-aht problem to solve alone. Everyone has to come together — Parks Canada, Ucluelet, Tofino and us — to put our heads together and deal with this issue."