Just when you thought you'd seen it all, life throws you a curveball.
We had just posted an article about the number of Grizzly Bear sightings on Vancouver Island. Then up popped a notice about a black bear fishing with a pole, rowing a boat, and cuddling a Russian woman.
No way.
Then there are the photos. You think these can't be real. They must be Photoshopped.
When you see their names are Archie the bear and Veronica the Russian Babe, you're even more convinced it's fake. No one wants to feel like a Jughead!
Then you watch the video, and you say, "Wow, this looks real."
Take a look for yourself.
The video shows Archie the bear and her friend Veronika Dichka 'fishing' together on a lake in Siberia, near a town called Novosibirsk.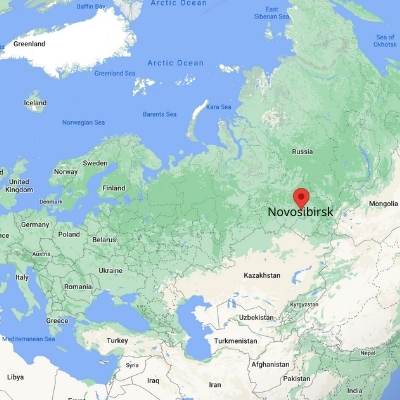 The widely reported story is that two years ago, Veronika rescued Archie as a cub from a safari park that went out of business because of COVID. But, Archie and Veronika weren't complete strangers. Veronica, who works as a model, had worked with Archie on a few photoshoots. She has kept Archie as a pet since the rescue. They've become friends. They've become inseparable.
Archie's markings look like an Asian black bear, which is different from the black bears found on Vancouver Island. These Asian bears are smaller than ours and are great tree climbers. They are listed as vulnerable and are not native to the part of Siberia where Veronika lives. That is one reason Archie can't be released back into the wild. Also, Archie has lived his whole life in a zoo and wouldn't survive in the wild.
So Veronica and Archie hang out.
The photos series, which has become an online sensation, show the unlikely pair in a rowboat with fishing rods. There are photos of them cuddling, Archie rowing, plus a few with them kicking back like a couple of older men who have known each other for a long time.
Veronika told the Daily Mail, "Archie spends every day with us and is madly in love with water. He loves it very much when I take him to new places."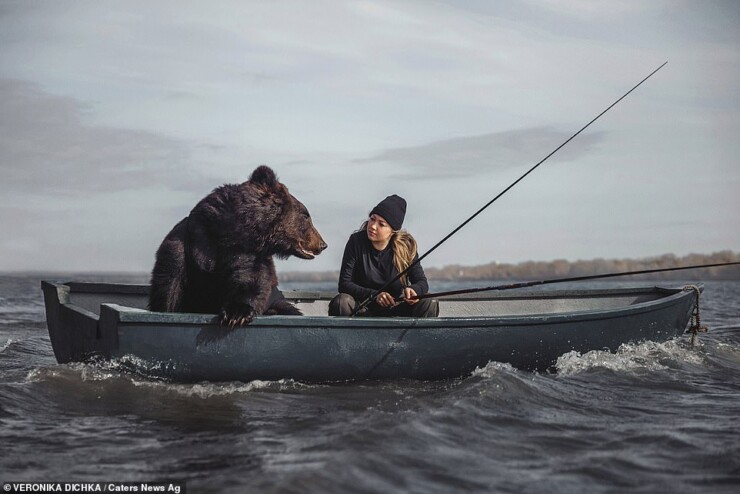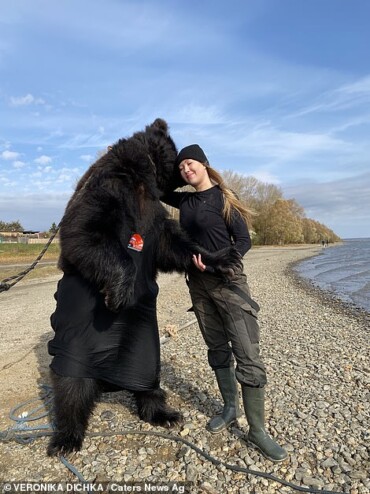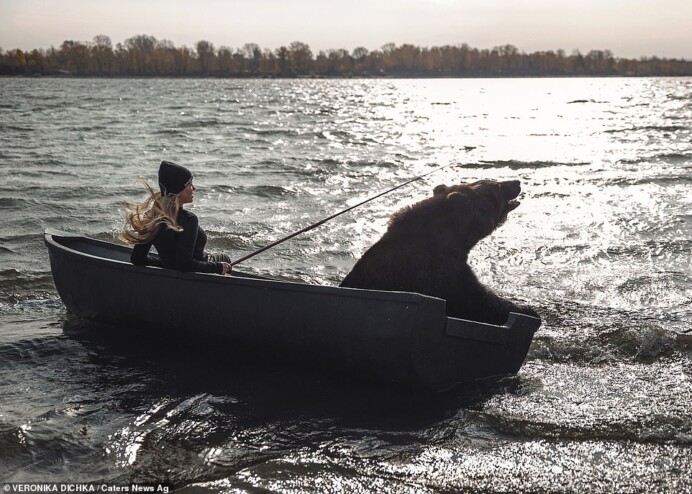 Veronika's Instagram account has more adorable videos and photos of the two friends goofing around.
One shows them playing on a swing. Another shows Archie cuddling and licking her as Veronika grooms a dog. Although Veronika is a ballroom and Latin dancer, I didn't see her doing the tango with Archie.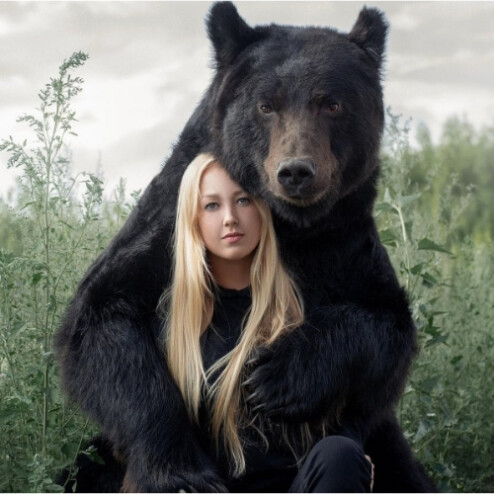 Veronica and Archie certainly have a unique relationship. It certainly involves lots of trust.
"He sees me as a member of his family; we share food, [he] sleeps in my arms when afraid, and hides behind me," Veronika was quoted as saying by Daily Mail.
While animal lovers may dream about cuddling a bear or letting them kiss you like Veronika, it is highly dangerous—perhaps even suicidal—to try it with a wild bear here in BC.
Get your thrills from looking at these incredible photos. They are exciting enough.